The Jewish World Series: Achdut Makes a Home Run
Baseball was on Rabbi Zvi Kahn's mind as he headed from his home in Columbus, Ohio, to the nearby Jewish Community Center after Havdalah one Saturday night in May three years ago. More accurately, a baseball tournament.
A baseball tournament, unifying day school kids from across the country, provides young frum athletes with a chance to compete in a kosher atmosphere. Seen here, Columbus Torah Academy Players. Photos courtesy of Dr. Tricia Rosenstein
Rabbi Kahn is headmaster of Columbus Torah Academy, a Modern Orthodox day school (K-12) that was sponsoring a first-of-its-kind baseball tournament among four Jewish high schools over one long weekend in 2010. Earlier games on Thursday evening and Friday afternoon had drawn nice crowds of visiting parents and local fans, but the Motzaei Shabbat competition, starting at 10:30 pm, was the centerpiece of the tournament. Rabbi Kahn was worried that people wouldn't show up.
He needn't have worried.
As he drove up to the JCC, the site of the Columbus Baseball Invitational, he saw cars vying for parking spaces. "The parking lot was full," he says.
"I had to park farther away, on a side street."
The Saturday night crowd, the rabbi says, confirmed that the school's decision to establish such a sports venture was a success, giving young frum athletes a chance to compete in a kosher atmosphere without Shabbat scheduling conflicts and with bleachers full of enthusiastic supporters.
Kosher Baseball
The need for such a Shabbat-considerate—if not strictly shomer Shabbat—sports tournament was revealed last winter when the boys' basketball team of Houston's Beren Academy, a day school whose team had reached the semifinals in its league for small private and parochial schools, became the center of a national controversy. (See "Lessons from the Team That Wouldn't Play on Shabbat" in this issue.) Beren nearly had to forfeit a game, and a shot at the championship, because the semifinal and final games were scheduled to be played on Shabbat. Following a firestorm of publicity, including support for the school from largely non-Christian celebrities and politicians, and sympathetic coverage by the Houston media, a Friday evening game was changed to Friday afternoon.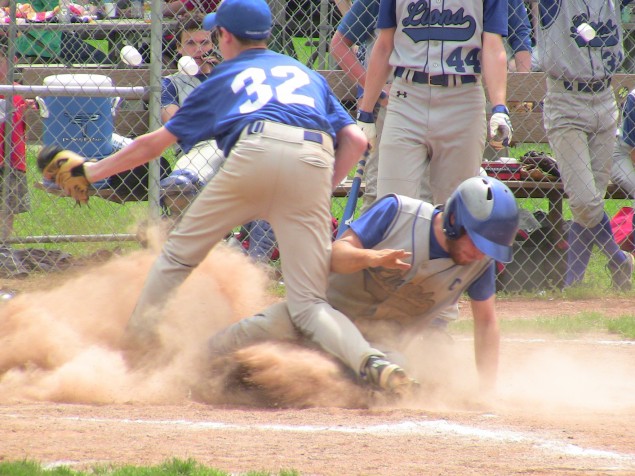 Samuel Rosenstein, a student at Columbus Torah Academy, sliding into home plate.
Beren won that semifinal; the final game was played Saturday night. The issue created a major kiddush Hashem, educating the wider public about the specifics of Sabbath observance and the sacrifices it sometimes entails.
"[The tournament] is very important to these kids and their families," Rabbi Kahn says.
"If adults ignore what [teens] are interested in, we're going to lose them," says Dr. Tricia Rosenstein, a pediatrician and Torah Academy parent.
For most teens, especially in a Modern Orthodox milieu where athletics often plays a prominent role, competitive sports are a normal—and valued—part of adolescence. This is especially so in Columbus, home of the Ohio State Buckeyes, one of college football's most successful teams, and of fans who continue their rabid interest as alumni. On Friday night, Torah Academy students can hear the sound of fans cheering at high school football games in their neighborhoods.
The students, frum but worldly, want the excitement and recognition that surround other—non-Jewish—schools' sports programs, family members of the day school students say.
"Kids need something a little bigger than themselves to feel part of," says Dr. Rosenstein. "Now," she says, "they get to hear their own cheering."
"Athletics, like academics, provides the challenges that help shape both the mind and body," according to the day school's sports blog (ctaathletics.blogspot.com). "Many studies show that qualities such as commitment and desire drive our students to compete and excel in the classroom, on the field and later, in their chosen professions." Which is why the school said yes when Steve Guinan, a baseball coach and English teacher at Torah Academy, asked whether a baseball tournament among similar Modern Orthodox institutions is feasible.
A Tournament is Born
Word went out over the Internet and several schools expressed interest.
First at bat were Chicago's Ida Crown Jewish Academy, Manhattan's Ramaz School and the Kushner Hebrew Academy in Livingston, New Jersey. The initial Columbus Baseball Invitational—renamed the Jewish World Series—was born within a few months. The 2012 tournament included Ramaz, Ida Crown, Yeshiva Atlanta, Kushner and Rabbi Alexander S. Gross High School in Miami. A tournament is scheduled for this coming spring as well.
"We thought it would be more local, limited to schools closer to Columbus," says Coach Guinan. To his surprise, more distant schools signed up for the tournament, which takes place after end-of-year exams are over.
"Kids need something a little bigger than themselves to feel part of."
Achudt on and off the Field
The teams arrived by plane, car and bus. The visiting players were hosted by members of the city's Orthodox community. They davened on Shabbat in Congregation Torat Emet and before weekday games at the JCC, practiced on the JCC fields and attended shiurim together with Torah Academy students.
With the financial support of Torah Academy (a raffle brought in some funds), each school's registration fee was kept down to $1,500, to encourage participation.
For the Jewish World Series players, the tournament is a chance to suit up against other Jewish athletes. "We get to be with other Jewish kids," says Daniel Jacoby, a junior from Ida Crown. "It's a nice benchmark. Everybody plays in different divisions and we get to see which is the best Jewish team out there."
For the visiting teams, especially from the Greater New York area like Ramaz and Kushner, it's a chance to see Orthodox life in other parts of the country.
Putting Columbus on the Jewish World Map
With a total Jewish population of about 22,000 (including some 350 frum families), Columbus has fewer Jews than some New York neighborhoods; Torah Academy's total student enrollment barely tops 220. The city has hosted past gatherings such as smaller-scale regional NCSY conventions, but the tournament is a chance to really show off. "We have gone to Shabbatons in other cities for basketball tournaments and were viewed only as a small school from Ohio; we wanted to put Columbus Torah Academy on the map," Athletic Director Matt Bailey says. "Now we go to tournaments and I am constantly asked by other coaches, administrators and parents, 'Aren't you the school with the baseball tournament?'"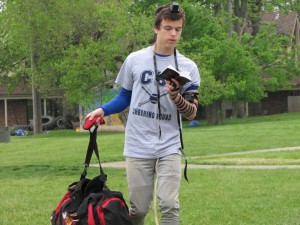 Keenan Sobol, from Columbus Torah Academy, prays on his way to a game.
The tournament earned coverage on the front page of the sports section in the daily Columbus Dispatch, "which for our school… is a big deal," Bailey says.
"If you aren't invited to the party, then have your own party, right?" columnist Bob Hunter writes on Torah Academy's decision to form its own baseball tournament. "It only makes sense."
"This is our March Madness," Hunter quotes Bailey as saying, alluding to the informal name for college basketball's annual championship tournament.
Hunter describes the challenges the day school faces in arranging a sports schedule without Friday night or Saturday-before-sundown games. Torah Academy usually faces other small religious schools such as Delaware Christian and Licking County Christian Academy. A baseball tournament of its own avoids these problems, Hunter explains. Torah Academy's only worry at this point is the weather. "Shabbat doesn't leave much flexibility for scheduling rainouts," he says.
So far, God—and the skies—have smiled on the schedulers. There's a waiting list for future editions of the Jewish World Series.
At the games, there are kosher snacks for sale in the stands; "HaTikvah" and "The Star Spangled Banner" play beforehand. And there are tailgate parties featuring picnic-style socializing in the parking lot before the umpire yells "Play ball!"
The umpires, who are non-Jewish, are "amazed" by the players' level of play and conduct, Coach Guinan says. "They feel the players are really respectful." He calls the tournament a success, both on and off the field. The participating schools keep coming back, as do the fans.
Coach Guinan fondly recalls the "hundreds of people" at the Saturday night games. "The whole community is out at the fields watching the young leaders of the future play a beautiful game," Bailey says. "It feels like a World Series game."
Last year's winner was Yeshiva Atlanta. The school took home the championship trophy following an incredible nine innings—two extra innings—7-5 gut-wrenching win over Kushner Academy of New Jersey, Coach Guinan says.
Coach Guinan describes the 2012 tournament's atmosphere as, "four days of sunny skies, great communityruach [spirit] and fantastic baseball."
What if standing-room-only crowds force Rabbi Kahn to walk several blocks to the JCC fields on Saturday night again this year?
"I don't mind," he says. "I hope I have to park farther away."
In 2012, the rabbi says, he had the best of both worlds. "The crowds were bigger . . . but not to the point that I had to walk much farther."
"Each year," Rabbi Kahn says, "the tournament grows in stature and popularity. We are expecting an even larger turnout in 2013 and are actively exploring new venues where we can accommodate more teams and larger crowds."
Steve Lipman is a staff writer for the Jewish Week in New York.